SEO is a make or break for any website's ranking. The solid your website's SEO foundations are, the more are the chances that it'll rank. 
Google Search Console is a great tool when it comes to checking the technical SEO of your website. Your Google Search Console SEO audit ultimately boil down mainly to the following components:
Are your sitemaps working?
This is likely the most common error clients make with Google Search Console, other than not connecting at all..
A sitemap is a diagram of the pages on your website that Google's tiny indexing spiders may use to navigate and discover new or missing content. By submitting your sitemap, you let Google know about the pages on your website, which speeds up the indexing process.
 Use the "Sitemaps" page on the left sidebar to submit your sitemap. Simply type in the sitemap URL and press the "Submit" button.
Indexing problems?
Google ranks what it can find. Is your website visible to Google?
 If your website is not ranking, you might need to check your Index Coverage Report.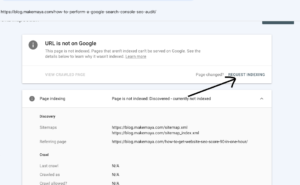 What is an Index Coverage Report?
It displays which of your pages Google has successfully indexed and which pages it has not done so for technical reasons. Additionally, it provides information regarding the problem, and you have the choice to ask Google to re-index individual web pages or your entire website.
Where to find it?
Select your primary domain from the dropdown list after logging into Google Search Console https://makemaya.com/blogs/google-search-console-set-up-and-tools-features-explained/ (top left corner). To view the Index Coverage Report, click COVERAGE under Index.
Here, you will notice that 4 tabs in the the top part of the report:
Error

Valid with warmings

Valid

Excluded
Since we're here to investigate any indexing errors, we will use the ERROR tab. 
The categories of faults are clearly visible. The possible values are:
"Server error (5xx)"

"Redirect Error"

"Submitted URL seems to be soft 404"

"Submitted URL marked 'noindex'

"Submitted URL blocked by robots.txt"

"Submitted URL returns unauthorized request (401)"

"Submitted URL has crawl issue"

"Submitted URL not found (404)"
Click here to know a detailed process on how to fix these errors.
Click-through rate and impressions
Here is one of Google Search Console's most crucial metrics 
The number of users who view your organic search result on a browser is referred to as impressions, and the number of users that click it is referred to as click-through rate. 
The better, the greater the CTR.
 Toggle "Average CTR" on under the performance tab's "Search Results" section.
 Select a choice from the available options by clicking the "Export" button. Google Sheets it is from me.
Here, we can view every single tab, including those for queries, pages, nations, etc., along with the relevant statistics for each:
Look for any organic results that have a CTR of less than 2% to 3% by selecting the "Pages" tab. Add fresh title tags and meta descriptions to these to optimize them.
Similar to this, selecting the "Queries" tab will show you the CTR for the targeted keywords.
Sometimes you'll be dominating for a particular term, but the page's total CTR will be lower. Do not worry. It is weighed down by other terms that it has been exposed to in the past but may not be the best for. What matters is that you are directing traffic for the head term.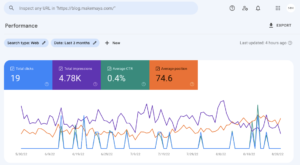 Top Queries
Returning to the tab for search results, select "Queries" and then filter by the quantity of clicks.
These Google searches are bringing the most visitors to your website.
They provide information about the patterns and motivations of website visitors.
First off, they can be utilised to improve the optimization of already-written pages and content as well as provide ideas for new blog posts. After all, according to 57% of marketing professionals, the creation of on-page content is the most successful search strategy.
You may not even be aiming for these queries in some cases. They are easy pickings.
Place the following search keywords on the relevant pages. As a result, your website will start to rank even higher for them and receive more traffic.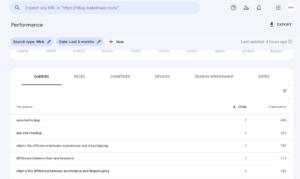 Links
Any website's backbone is its backlink profile. They function almost like a vote system, informing Google of the most well-liked websites. You also desire to be a cool youngster!
Many people discuss Spyfu, Ubersuggest, and other popular search engines, but few bring up the fact that GSC also offers a backlink analysing capability.
You can view the pages that are most internally and externally linked by selecting "Links."
Additionally, you may view the specific sources of your connections by clicking the source link on any page. Amazing, huh?
Utilize them to create more partnerships and ties with referring domains. Links do in fact lead to an increase in search traffic.
To improve search ranks, marketers can also use exact match anchor texts to link between the most reputable pages. This contributes to the formation of a silo.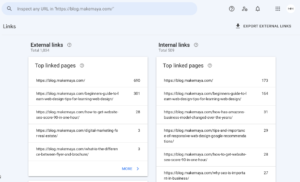 Manual actions
Google will list any sanctions imposed on your domain for inappropriate behaviour here.
Here, you'll find anything from a warning (typically due to faulty links) to becoming fully banned from Google (caused by full-on black hat tactics).
Phew. It's vacant!
If you do have manual actions (which I sincerely hope you don't), you can appeal them provided you took the necessary steps to undo whatever led to them in the first place.
Wrapping up Google Search Console SEO audits
Google Search Console is the ideal, cost-free tool for SEO audits. The following sections need to be audited the most:
Sitemaps

Crawling and indexing performance

Organic impressions and CTR

Top organic queries

Internal and external links

Manual actions
Verify that each of them is operating as intended and examine it to discover fresh keywords, article concepts, and link-building chances.