What is Google Search Console?
Google Search Console is a free service that lets you track your website and organic search traffic (Google Search).
There's a good chance that Google Search Console is the least utilized SEO tool by SEO professionals, marketing professionals, and business owners alike.
While some 3rd party SEO tools are useful, GSC is data straight from Google. If you're trying to improve your presence on the world's 1 search engine, why not go straight to the source?
SEO experts around the world use Google Search Console every day and it is recommended to anyone who wants to increase their Google organic traffic.
We will explain how I use GSC to boost our SEO, generate more organic website visitors, and how you can do the same for your own website in this article.
You can jump to a section to read more.
Why You Should Use Google Search Console
There are numerous advantages to using Google Search Console besides the obvious benefit of collecting data directly from Google.

By linking your website to GSC, you can make it simpler for Google to comprehend and index your website. Through thorough & frequent crawling, it helps getting pages ranked or re-ranking updated pages.

It also helps new pages to get indexed quicker. You simply have to submit them to the Search Console.

GSC also helps you identify technical issues that could possibly result in SEO deranking, a decline in rankings, or poor user experience.

By monitoring security issues through GSC, you can keep your site safe & running.

It lets you analyze the information of backlinks and internal links that helps you build strategy to increase Domain Authority.

It also lets you discover indexing issues by inspecting specific pages.

It also helps you identify pages with poor click-through-rate (CTR) that may need retargeting or improved metadata.

It also helps identify pages with low impressions or a low average position so you can improve them with reworking, retargeting, rewriting, or indexing.

With proper monitoring & analysis of site content, you can come up with impactful strategies and data-backed SEO decisions to improve the SEO.
Setting up on Google Search Console should be a must if you own a website or are performing SEO on one. The effort is trivial in comparison to the benefits.
How to Set Up Google Search Console
Setting up Google Search Console is fairly simple compared to some of its more complex features.
Here is how to get started step by step.
1. Hit Start Now on the Search Console main page to go to the Start Now page.
2. Go to Search Property in the upper left-hand corner, then click Add Property.
3. If you can perform DNS verification (completed through your host), you should use Domain Verification, as it will cover subdomains and all HTTP variations of your domain.
Otherwise, use the URL prefix method and enter the primary URL (the full URL that appears when you visit your site).
When you have subdomains, you should always use the Domain Verification method in Search Console instead of the URL Prefix method, which splits the data into multiple properties.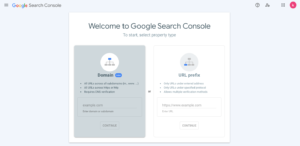 The simplest way to verify your site using the URL prefix method is to add the HTML tag to your SEO plugin via the advanced settings. Otherwise, you can embed the code directly in the <head> section.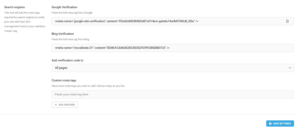 *Note: Domain Verification disables the legacy tools.
Once you have done that, you are all set, but there are a few more things to check to make sure everything is working properly.
4. Go to the sitemap tab and enter your sitemap URL. Make certain to install and configure an SEO plugin (for WordPress websites) such as Yoast SEO or Smartcrawl Pro that will create one for you if you don't already have one.

5. Navigate to the Legacy Tools country tab and select your country from the drop-down menu.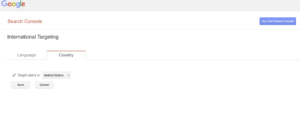 Congratulations, you're finished.
Google Search Console Tools & Features Explained
There are a lot of tools and features available in Google Search Console.
Google Search Console is vital to your SEO strategy, as you can see.
In the list below, I've listed the tools available through GSC that can be used to audit and improve your organic presence.

Overview
The overview tool is pretty self-explanatory – it gives an overview of your data and some of the various dashboards.
Checking in on some high-level metrics or monitoring variables like site speed and indexing is useful if you're just checking in quickly.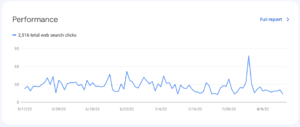 Performance
The dashboard is where you'll spend most of your time if you want to improve your SEO in the long run.
The data in Search Console is the bread and butter of it. Through GSC, you can tap into this data and unlock opportunities.
Through the queries and page reports, you can identify areas for improvement and get precise instructions on how to improve your rankings (more on that later).
Below is a performance report with the search query data, rankings for specific pages, or specific sections of your site (using filters).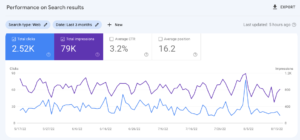 URL Inspection
The URL inspection tool is on top of Google Search Console and is commonly used to request indexing or reindexing of pages.
In addition to checking for indexing status and mobile usability, this tool provides other useful features. You can check the health of a page at any time if you desire.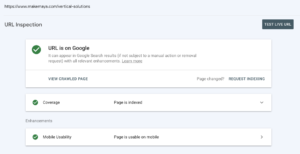 Coverage
The coverage dashboard provides information on the indexing coverage of your sitemap and non-sitemap pages.
There are several problems with pages such as 404s, pages blocked by robots.txt, and indexing that can be found.
A graph that shows the pages with no errors, warnings, errors or excluded pages over time can also be seen.
Keep an eye on your website and page health by checking this page frequently.
You should start working through the pages on a very large site with a lot of errors and warnings by exporting the data into a spreadsheet.
Sitemap
Creating a sitemap page is simple. This is the page where you submit your sitemap to Google Search Console so that Google can crawl your site and understand its contents.
Core Web Vitals
Google Search Console now offers Core Web Vitals, a service that monitors website speed across mobile and desktop pages.
You can also investigate certain pages to discover precisely what issues are hindering that content.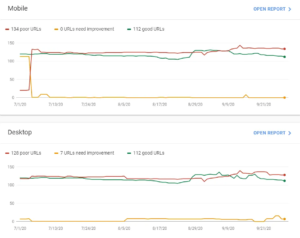 Mobile Usability
You can assess your mobile compliance against Google's mobile usability standards using the mobile usability tab.
You can use Google's Mobile-Friendly Test to see where the issues are on your page, or you can look at specific issues for specific pages.
Legacy Tools and Reports
Google Search Console has undergone some updates in the past, as well as a complete overhaul of the platform.
Some tools and features were retired with this update. However, they are still accessible and may be incorporated into GSC in future (present) versions.
There are certain tools that are quite helpful: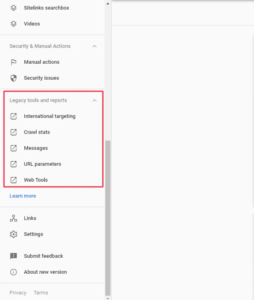 International targeting – Set your country to inform Google of how to best display your website in search results and enhance local search results for your domain.

Crawl Stats – Examine the Google Bot's activity on your site to make sure it is being properly indexed and keep an eye out for crawling advancements over time.

Web Tools – To help your site display better in search results, you may access the Structured Data Testing Tool and Structured Data Markup Helper from this page.
Links
You can view a few different link modules in the Links dashboard, including information about external and internal links.

External Links – Links pointing to your website from other websites are sometimes referred to as backlinks. A well-known SEO ranking component that can assist increase Domain Authority are backlinks.

Internal Links – Internal links are those that take users from one page of your website to another. Internal links are beneficial for a variety of reasons, including transferring authority from one page to another, assisting users in navigating your website, and assisting Google in comprehending and properly crawling your website.
Settings
You can handle stuff like an ownership change and verification in the settings module.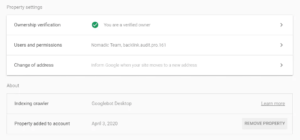 Google can also be notified of a domain name change if you recently updated your URL.