90+ SEO Score in Just 1 DAY
This article is totally based on my personal experience with SEO Score and how I achieve 90+ SEO Score for my client in just 1 day.
It's very crucial to have website SEO Score 90+ in order to rank website higher in Google SERP.
Well, I have read many articles on SEO Score but couldn't able to fetch the most relevant information. But after fixing it manually by myself I thought why don't I share this secret with you as well.
The first thing client usually ask is How do I check my SEO Score on Google?
So, the answer is very simple, there are so many websites to check SEO Score you can find online on google but my personal favorite is www.seositecheckup.com, it gives a very clear idea about the website SEO score and also give recommendations to improve SEO Score along with possible solution via videos and texts.
When I started working on client's website the score was almost 60 and I need to raise it to 90+ which is a big task to do but I did it in just one day through www.seositecheckup.com
                                                                              SEO RESULTS: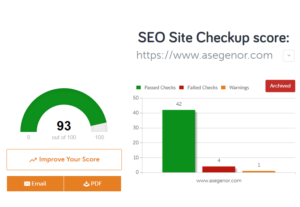 Google Parameters to give Search Engine Optimization Score:
There are various parameters Google take into account to measure SEO score online.
Some of the SEO Score Parameters are:
Meta Title Test

Meta Description Test

Google Search Results Preview Test

Most Common Keywords Test

Keywords Usage Test

Heading Tags Test

Robots.txt Test

Sitemap Test

Broken Links Test

SEO Friendly URL Test

Image Alt Test

Inline CSS Test

Deprecated HTML Tags Test

Google Analytics Test

Favicon Test

Backlinks Test

JS Error Test

Social Media Test

HTML Page Size Test

HTML Compression/GZIP Test

Site Loading Speed Test

Page Objects Test

Page Cache Test (Server Side Caching)

Flash Test

CDN Usage Test

JavaScript Caching Test

CSS Caching Test

JavaScript Minification Test

CSS Minification Test

Nested Tables Test

Frameset Test

Doctype Test

URL Redirects Test

URL Canonicalization Test

HTTPS Test

Safe Browsing Test

Server Signature Test

Directory Browsing Test

Plaintext Emails Test

Media Query Responsive Test

Mobile Snapshot Test

Structured Data Test

Custom 404 Error Page Test

Noindex Tag Test

Canonical Tag Test

Nofollow Tag Test

Disallow Directive Test
Every parameter has its own weightage and priorities in Google.
How do I achieve SEO Online Score 90+ in ONE DAY?
I worked keenly on all parameters, simple way to do is to check what is missing on the website and just add them.
Adding Meta Tags:
Google bots always check meta tags so always remember to add those tags in Header of the website.
Adding Robots.txt and Sitemap.xml:
Robots.txt is a file that tells search engine spiders to not crawl certain pages or sections of a website.


Sitemap.xml:
A Sitemap is usually used for the purpose of letting the search engine crawlers follow the links to all your individual webpages so that it won't miss out on anything.
Doctype Test
We have performed all these tests and do the needful to pass out all the tests to get score 90+.
Why SEO Score is important?
While paid advertising, social media, and other online platforms can generate traffic to websites, the majority of online traffic is driven by search engines.
SEO is also one of the only online marketing channels that, when set up correctly, can continue to pay dividends over time. If you provide a solid piece of content that deserves to rank for the right keywords, your traffic can snowball over time, whereas advertising needs continuous funding to send traffic to your site.
Search engines are getting smarter, but they still need our help.
Optimizing your site will help deliver better information to search engines so that your content can be properly indexed and displayed within search results.
Should I hire an SEO professional, consultant, or agency?
Depending on the agency, you may be able to find cheaper rates for ongoing monthly SEO work. So while the overall price is higher, the project rate is broken down into monthly payments, making it more affordable.
Also, SEO agencies have multiple professionals who can work on your project. Remember, there's more to search engine optimization than just keywords and content. You may find your web design needs tweaking, such as the technical SEO that works in the background.
Plus, if you need ongoing work, agencies have the talent pool to provide it. Other services you may find useful include ongoing social media marketing, pay-per-click ad management, and content writing.
In a nutshell, SEO agencies offer a more comprehensive package for your marketing strategy.
Hire MakeMaya for your website SEO for not only ranking website on Google but also to get SEO Score 90+ in just one hour.